As a business coach I've uncovered many ways to run a business. Some make me chuckle, others excite me because of their innovation and many frustrate me because they're just not working for the business owner. I know that it only takes 3 Pieces of Paper to help a business owner to get their business under control.
All too often I see owners juggling tasks, demands, and jobs, losing sight of what's important and getting very stressed when nothing seems to get done.
Going home feeling exhausted because getting anything done is just such hard work. Most days are two steps forward but two steps back as well.
Running a small business doesn't have to be difficult - it just takes a little organisation and .
I know that a SME can run very well on 3 Pieces of Paper™. Many of my clients have successfully adopted this approach. It's brought clarity to their thinking and enabled them to get on with the business knowing exactly what to do and why they're doing it. It gives them a solid, reliable and true base against which to judge everything.
I admit, technically, it's not just 3 Pieces of Paper™; you'll need a few pages to practice on. But when you're done you'll have one very big piece of paper alongside 2 smaller ones. That's it.
There's work to do populating the 3 Pieces of Paper™, but once planned and written you'll need to follow them and review, adjust and update every month or quarter.
What are the 3 Pieces of Paper™?
Quite simply; a one page business plan, a cash-flow forecast and a calendar - that's the big one to hang on your wall - an online version just won't do the same job!
Put the 3 Pieces of Paper™ together and this is what you get; a framework that will help you take your business wherever you want it to go.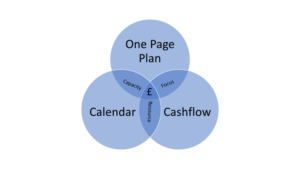 3 Pieces of Paper™
Related Article: Quick Effective Business Planning
There are lots of other articles on Business Planning, just click the category link on the right hand side to find them all.
Naturally its not as easy as sliding 3 pieces of A4 together! I can't magic these completed pieces out of thin air, but I can help you develop them so that your business gets back on track and driving towards the targets you want to accomplish.